Dissolved Gases – Entrained Air – Air Bubble – English
Dissolved Gases – Entrained Air – Air Bubble – English
The Difference among Dissolved Gases vs Entrained Air vs Air Bubble
Air Foaming is formed due to 2 different tension forces as described follows:

Surface Tension is molecular force between oil film surface and metal surface that is hold between several oil molecules. This oil film can be described in slippy hand. We can not wipe the oil from our hand. We have to use soap and water to reduce surface tension of oil film and rinse them out with water. Soap is acting as Surfactant to breakdown surface tension between oil film and skin.
Interfacial Tension (IFT) is molecular force between liquid or oil of how they pull one another so the oil is holding together as liquid while they are flowing. When Interfacial Tension decreases, air foaming start to pull in between oil molecules and becomes Entrained Air or Air Bubble depending on the sizes.
Dissolved Gases
Dissolved Gases is very small, soluble of air foaming dissolved and emulsified in the oil, not visible by eyes. The gases in positive displacement pump was mostly compressed from suction side and decompressed from the discharge side of the pump with oil pressure and heat in the oil. Dissolved gases usually have little effect on lubricating process when they are dissolved in the oil. Dissolved Gases can be compressed in small foam or decompressed into larger foam during lubricating process. Larger foam definitely can cause Cavitation as it will reduce surface tension from oil film and metal surface, thus affecting excessive wear on components.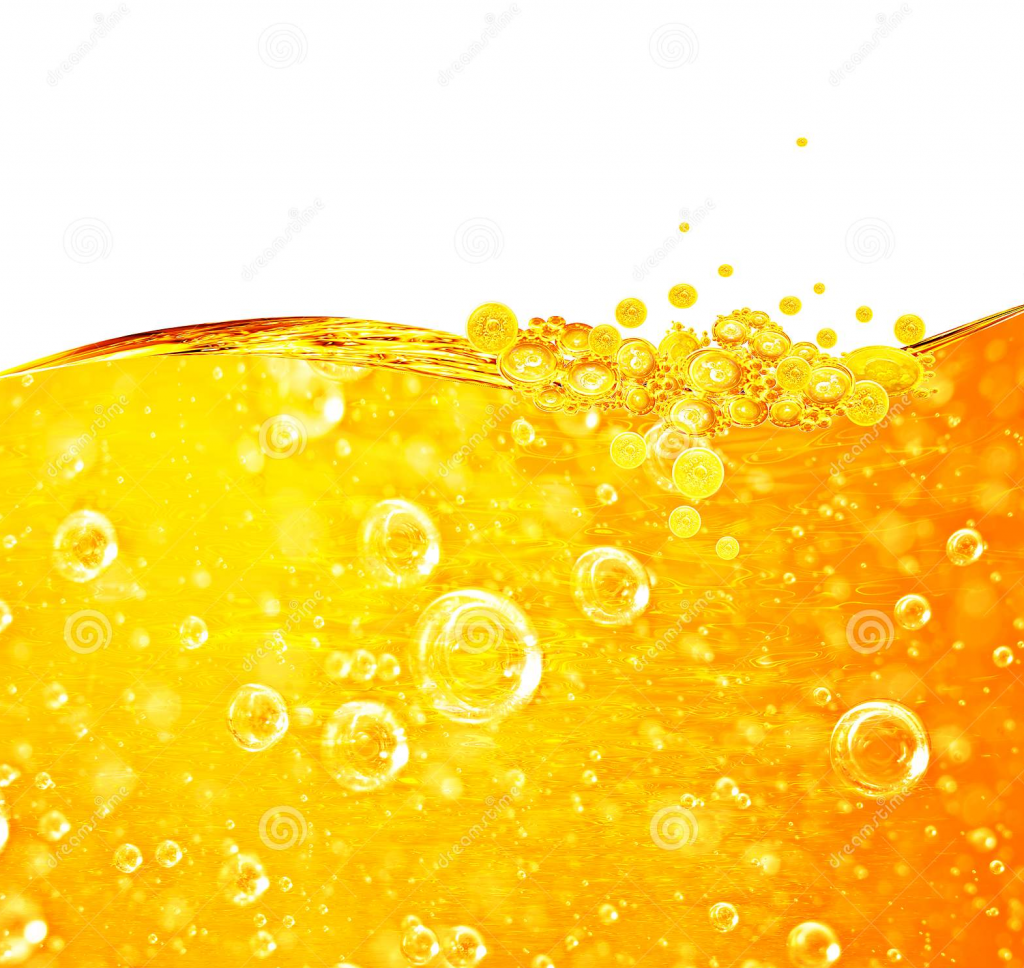 Dissolved Gases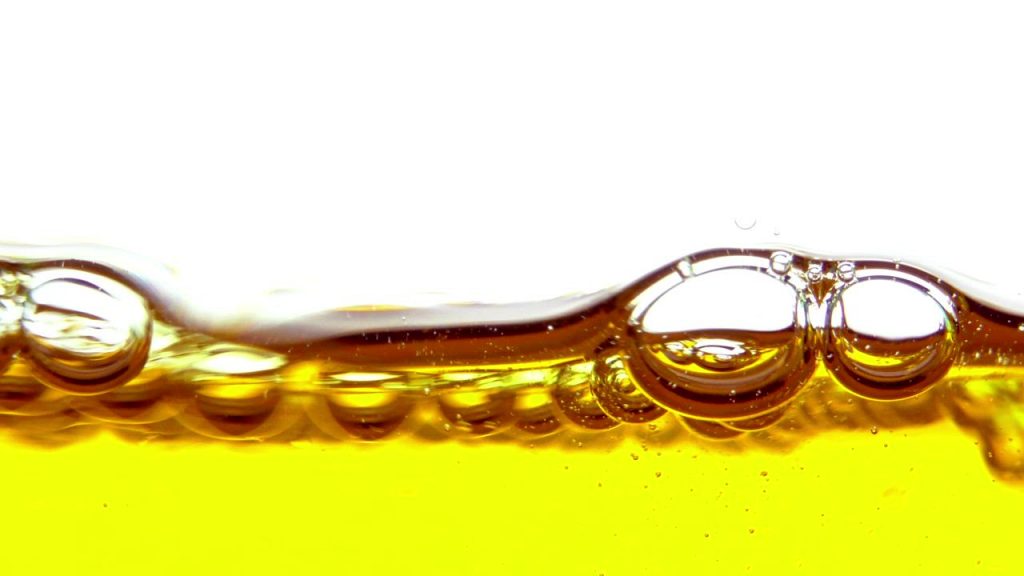 Anti Foaming Additive is normally used in the oil to control the Surface Tension and Interfacial Tension that prevents air foaming not to easily form in the oil. This Anti Foaming Additive is made of Silicone that is very sensitive to oil oxidation. It is the first one to go for additive depletion occurred from oil oxidation.
Excessive Stable Foam is caused by oil contamination such as Water, Oxidation or Oil Acidity that reduces Surface Tension in the oil.
Dissolved Gases can be removed from oil by Vacuum Jet Degasification.
2. Entrained Air
Entrained Air is a larger air foaming, mostly inflate from Dissolved Air or Gases when oil is agitating or turbulent flow. Large air foam usually starts from the bottom and rise to the top becoming the Tendency Foam within 5 minutes. This is considered as normal.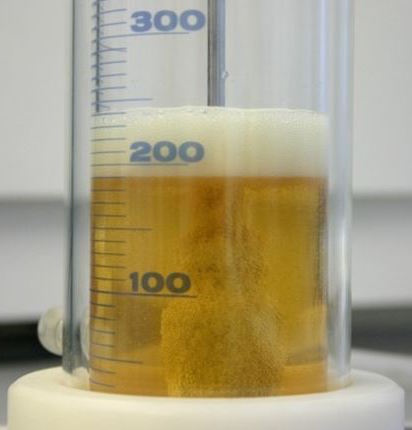 Entrained Air caused by oil contamination such as Water and Oxidation or Higher Oil Acidity that reduce both Surface Tension and Interfacial Tension.
Entrained Air can be removed by DA-3 De-Aerator from OilPure. Anti Foaming Additive that is made of Silicone, can be refortified into the clean oil only. This will help to control a better Tendency Foam in the oil. However, this can be done only when oil is free of water and oxidation.
If Tendency Foam does not disappear soon, it will keep forming the Stable Foam which causes more damages to the machine.
3. Air Bubble
Air Bubble is normally a larger foam that is inflated from Dissolved or Entrained Air. It starts after Anti Foaming Additive has been depleted and oil has been agitated for a long period of time. This Air Bubble will not easily disappear and can become the Stable Foam that Air Foaming can explode from the manhole tank of oil reservoir.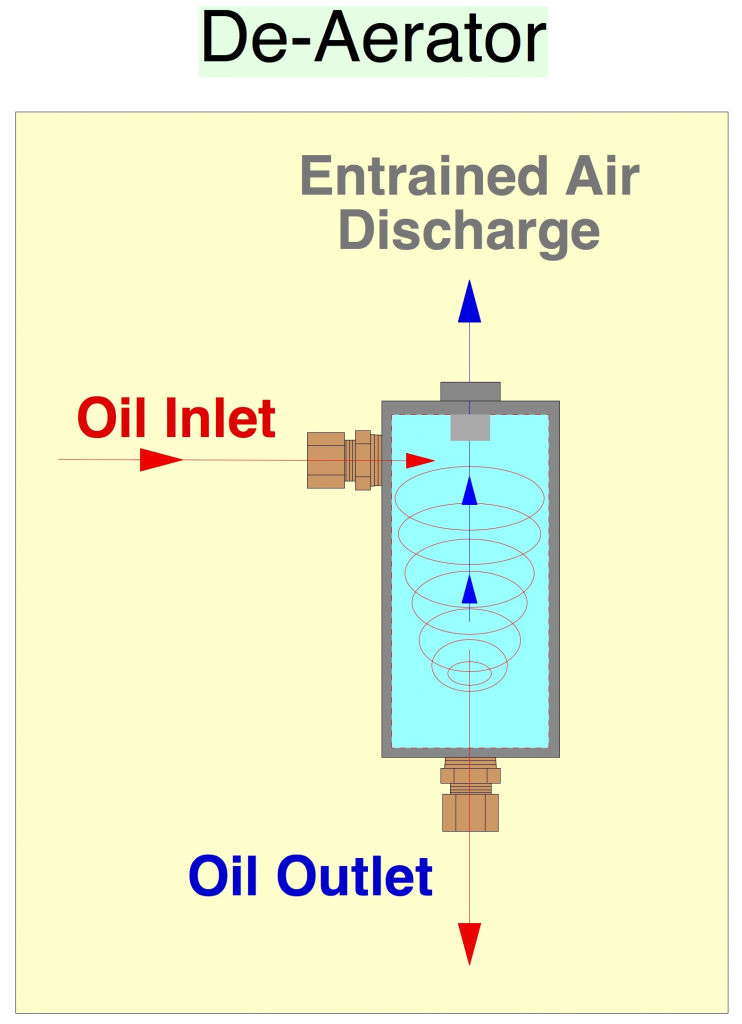 This Air Bubble can be removed by DA-3 De-Aerator from OilPure with the help of Anti Foaming Additive refortification.
Except when Air Bubble becomes Stable Foam that has a root cause from Defective Base Oil from refinery plant. DA-3 De-Aerator can only alleviate the foaming situation with Anti Foaming Refortification, but will not solve Air Bubble in Stable Foam problem.
There are 6 causes of Air Foaming in the Oil as listed followings:
Oil Contamination such as Dissolved Water and Oil Oxidation occurring during the overheated oil for a long period of time.

Depleted Anti Foaming Additive

can affect poor Surface Tension and causes excessive Air Foaming.

Excessive Surfactant

infiltrates in the oil reservoir. This can cause excessive foam.

Poor Machine Design

that has plenty of dead zone from 90° angle pipe corner. Fluid Flow can cause excessive heat within the corner of pipe. This causes pump cavitation in hydraulic system. It is an poor OEM design problem.

Defective Base Oil

from refinery that has

periodical poor quality control

problem, can cause an unresolved foaming problem. Defective Base Oil has incompatible with additives and unable to become homogeneous showing a white gluey color in the oil. Most oil blenders will add more Dispersant Additive to solve this homogeneous problem. But it is only masking the problem.

Defective Base Oil

from refinery that has

long term poor quality control

problem. The whole production lot of base oil has been defective. By over dosing Dispersant Additive will have the side effect and more air become the

Air Release Issue

that creates Large Stable Air Foam. This Large Stable Foam does not act like normal air foaming but become a chuck of liquid foaming that expands and explodes out of oil reservoir from the top manhole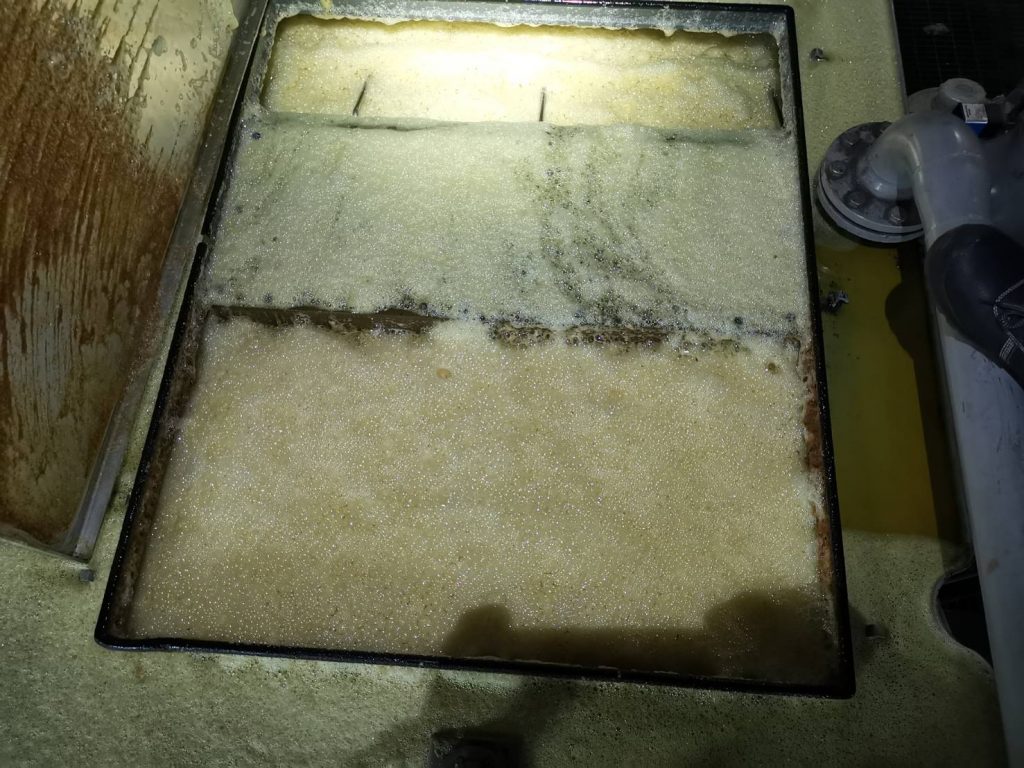 Large Abnormal Air Bubble Foam in the tank.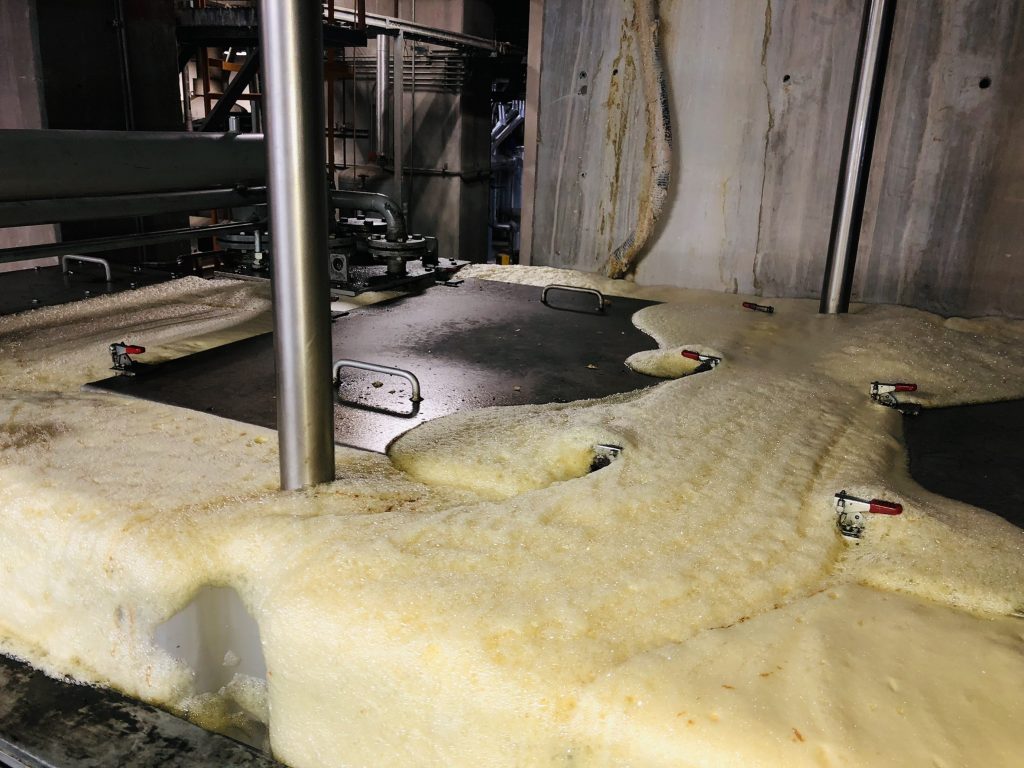 Air Bubble Foam explodes out of oil reservoir.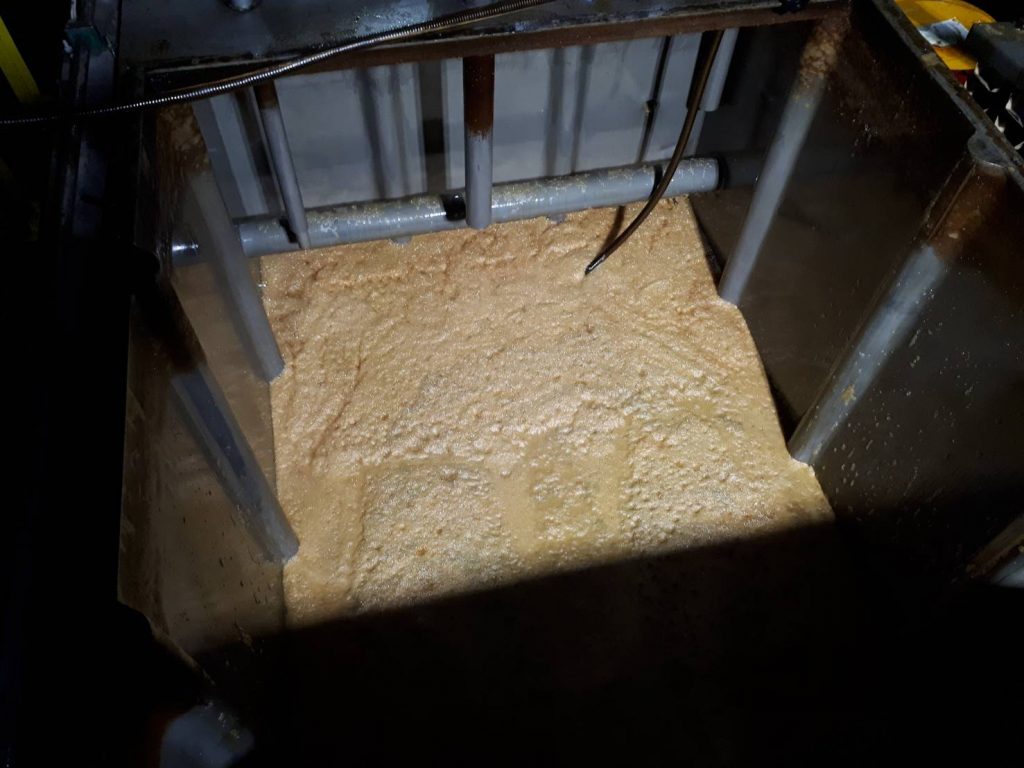 Air Bubble Foam still stays at the bottom of oil reservoir after oil was drained out.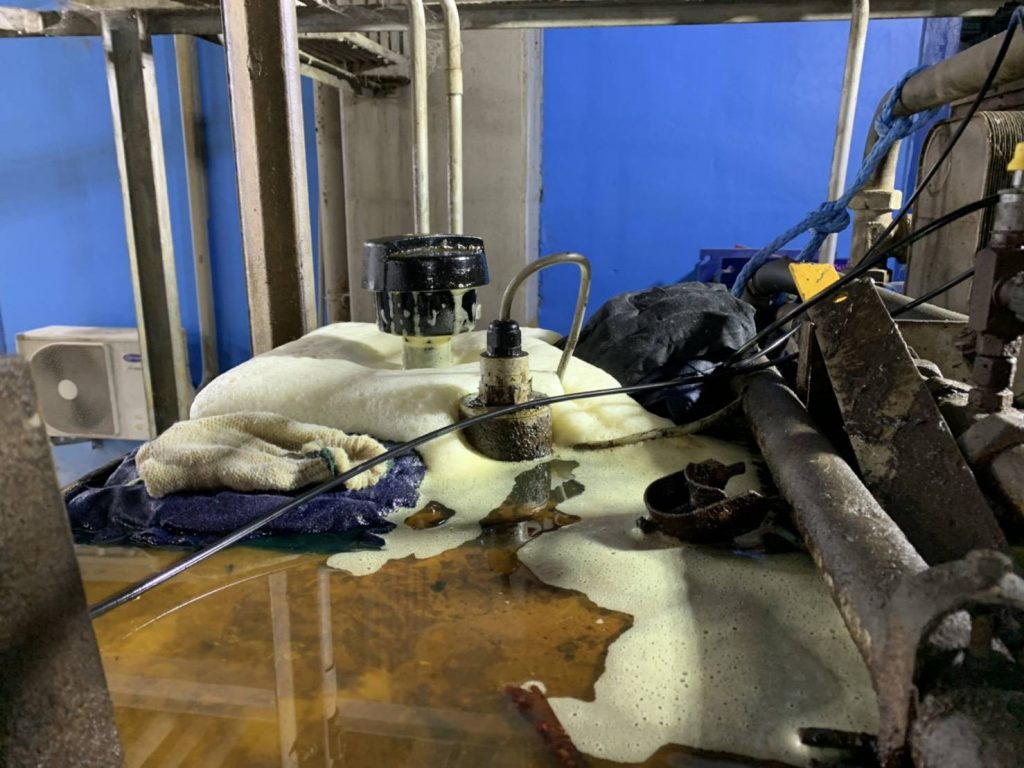 Air Bubble Foam expends all over oil reservoir.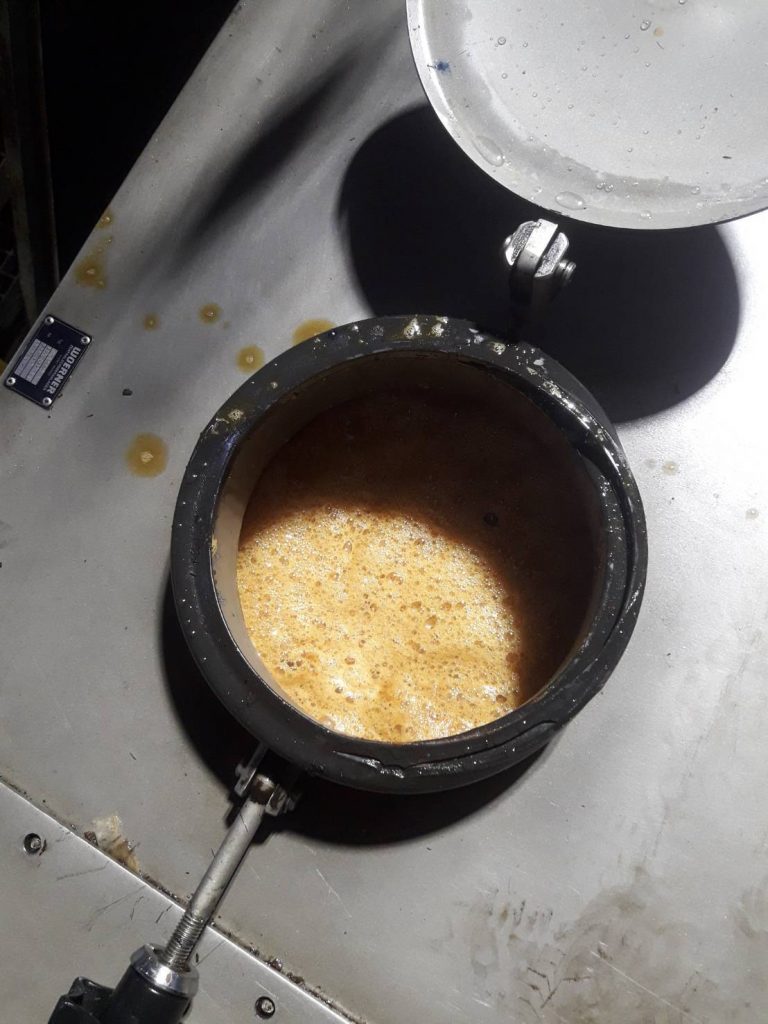 Air Bubble Foam at the Manhole tank.
The video shows how bad the Air Bubble Foam flowing out of oil reservoir as Liquid Foam like a milky cream. This Air Bubble Foam does not not dissipate easily and become Stable Foam. This normally caused from Defective Base Oil from refinery. There is no solution to this problem but replacing new base oil with higher Viscosity Index (VI).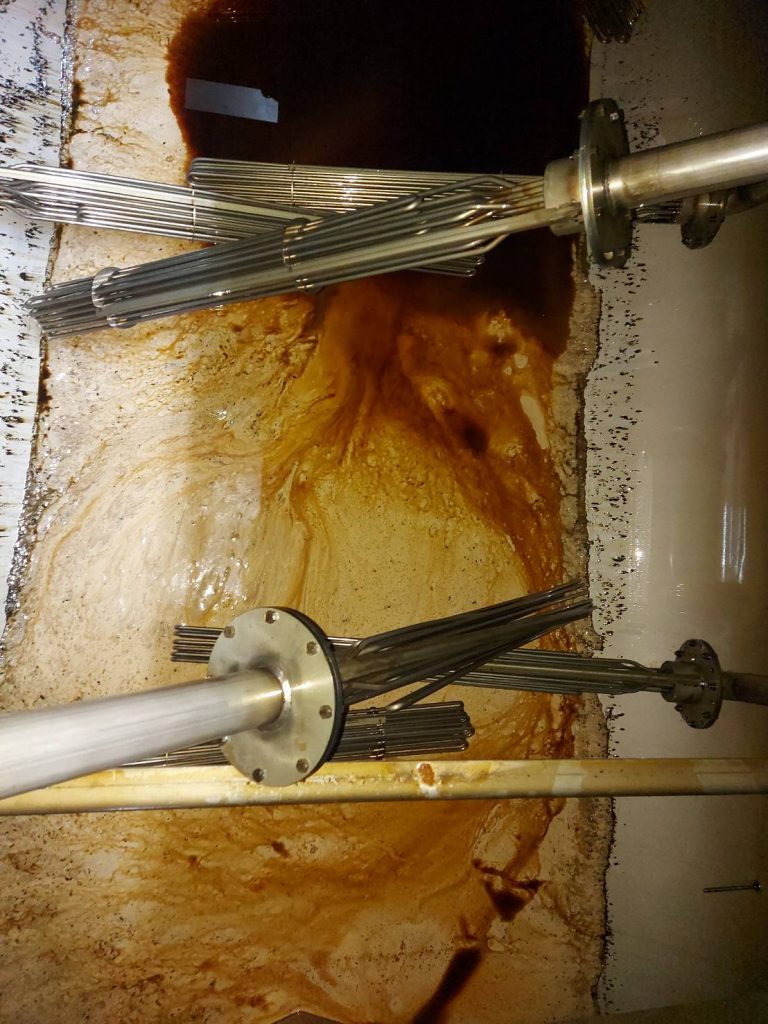 Free Water at the bottom of oil reservoir is a major cause of Air Foaming in the oil. Air foam will develop into all 3 Air Foaming: Air Bubble, Entrained Air, Dissolved Gases.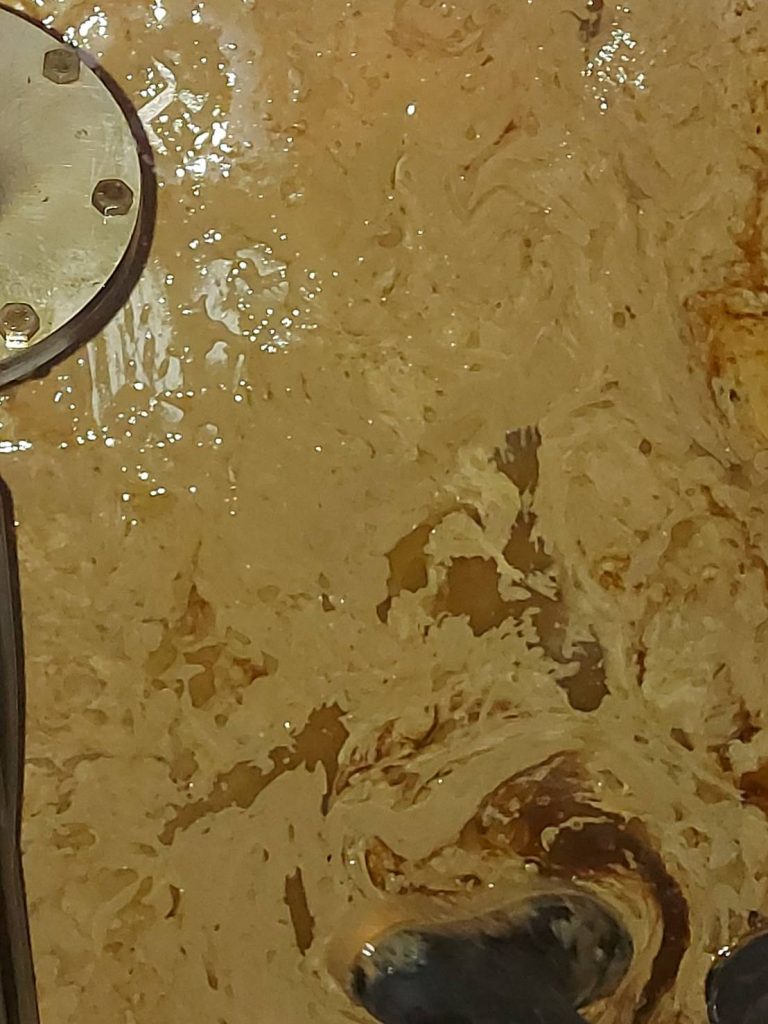 Free Water at bottom of oil reservoir is the source of Bacteria & Micro Organism that their growth will generate H2S Hydrogen Sulfide as well as system corrosion in the oil.
When Free Water has been collected at bottom of oil reservoir for a long period of time, oil at the bottom will appear like "Yogurt Oil". This Water like Yogurt Oil will make it impossible for conventional Vacuum Distillation to remove from oil. This Water Like Yogurt Oil must be pulled out from oil reservoir into DT-100 Free Water Separator prior to any water dehydration of this oil.
Adding Anti Foaming and Dispersant Additives may not solve this Liquid Foam problem. It could backfire the foaming problem to increase surface area so the air foam will adhere one another and become a Liquid Foam as illustrated on the above photos and video.
Sonochemistry – Chemistry of Ultrasound Foaming Acoustic Cavitation in Liquids
When Dissolved Gases expand or implosive collapse in the oil and become larger air foaming such as Entrained Air or Air Bubble, there are a Massive Build-up Potential Energy released from Dissolved gases in to the oil as high oil temperature rising from within the oil molecule. These miniature air foaming in nano size could release as much as 1,000 °F or 538 °C temperature when air foaming is expanding. This explains why most heat exchanger can not cool down the rising oil temperature.
When this potential heating energy is release with high oil pressure in the lubricating oil (Pressure Induced Dieseling (PID) or Pressure Induced Thermal Degradation (PTG), the quick collapse on air foaming is call Micro Dieseling that leads to the Oil Thermal Degradation & Oxidation reaction.
Adding Anti Foaming Additive or Dispersant Additive will not resolve this type of Air Foaming. It will make it worst as the additives will backfire foaming larger air foaming and become Stable Foam. This Air Foaming reconstructs its physical shape into Liquid Foam resulting in higher oil temperature afterward. It will breakdown the Oil Film on metal surface causing Lubrication Failure in the equipment.
These Air Foaming must be under control to minimal by using Degasification of Dissolved Gas และ De-aeration of Entrained Air & Air Bubble to get them out from the oil.

© Copyright, August , 2021
Document and information in this website is a proprietary information belonging to OilPure and is not allowed to reveal to public without OilPure consent.