Failure of Vacuum Distillation – English
Failure of Vacuum Distillation – English
Problem of Vacuum Distillation for not be Able to remove Water from Large Equipment
Vacuum Distillation works under principle of water boil and become vapor at 212 °F at atmospheric pressure or sea level. If Atmospheric pressure (14.6 psi) changes to 21 inch/Hg at 170 °F oil temperature, water will also boil and turn to vapor at this condition as well. Water will vaporize from Vacuum Chamber by Vacuum Pump (Liquid Ring Type) through Condenser and condenses into droplet of water from oil.
When dissolved water becomes vapor and rise to the top, oil will fall to the bottom of Vacuum Chamber. There is a gear pump to move the oil through a Solid Particle Filter.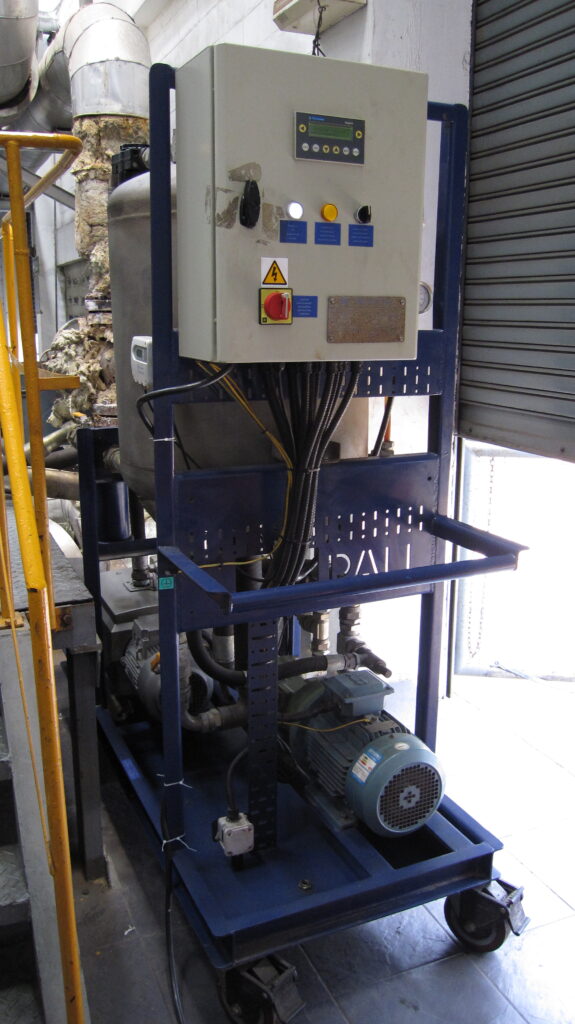 Vacuum Distillation Unit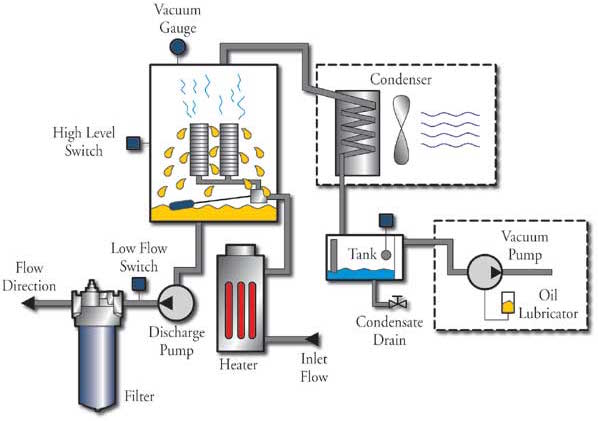 Vacuum Distillation can dehydrate dissolved water from oil and take perpetually to remove all water from oil reservoir. Because Vacuum Distillation draws Free Water from bottom of reservoir and dehydrate, then delivery the Still-Wet-Oil to top of oil reservoir. So this Vacuum Distillation is acting as the water mixer from bottom to top continuously.
Disadvantages of Conventional Vacuum Distillation
Vacuum Distillation is unable to pull water from High Viscosity Oil of ISO 220 grade or heavier. There is not enough vacuum force to draw heavier oil into the Vacuum Chamber. So Vacuum Distillation does not work on High Viscosity Oil.
Vacuum Distillation require high oil temperature to get more efficiency in water dehydration. Most user set oil temperature from 160 °F to 176 °F-185 °F in order to lower oil viscosity so vacuum pump can pull in the oil in vacuum chamber. However oil oxidation starts to rise when oil temperature exceeds 180 °F. Oil will become more rancid which is not good for lubrication.
When water content is 1%-3% in the oil, there is excessive water will diminish Oil Surface Tension, thus, result in excessive Air Foaming from oil in the vacuum chamber. Air Foaming has negative effect on vacuum pump and condenser. Vacuum switch will automatically reduce vacuum from 21 inch/Hg to 16 inch/Hg in order to control air foaming. This lower vacuum will reduce more than 50% of water dehydration capacity of vacuum distillation, as well as shorten the vacuum pump life.
There are Dissolved Gases decomposed and hidden in petroleum hydrocarbon which can release its Dissolved Gases from oil when there is enough heat and vacuum. These Dissolved Gases are hazardous and corrosive such as CH4 Methane, C2H2 Acetylene that will be drawn into vacuum pump and cause pump corrosion and shorten pump life. Most users didn't know the cause of high maintenance in vacuum distillation.
Each pass of vacuum distillation can only remove maximum of 1,000-2,000 ppm of water from oil (depending on oil temperature, viscosity and base quality). If there is more than 3,000 ppm of water, vacuum distillation can only remove Partial Water from each pass. The return discharge line will bring additional water after partial removal from bottom of oil reservoir to top of oil reservoir from discharge side. Then, vacuum distillation becomes a Water Mixer from bottom to top of oil reservoir while doing a multiple pass dehydration on equipment oil reservoir. This explains why water has never been taken out from oil reservoir from vacuum distillation after several months of dehydration.
If there is more than 3% (30,000 ppm) of water in the oil, vacuum distillation is unable to dehydrate water from oil reservoir due the above reason in no. 5. Water problem in oil will always exist in the machine. This type of water dehydration doesn't work for the excessive water content. However, this problem can be easily solved with OilPure Vacuum Jet Dehydration due to its unique design.
Vacuum Distillation could run for several months and more water still in the oil reservoir because Vacuum Distillation is water mixer from bottom to top of oil reservoir. It's a never ending process.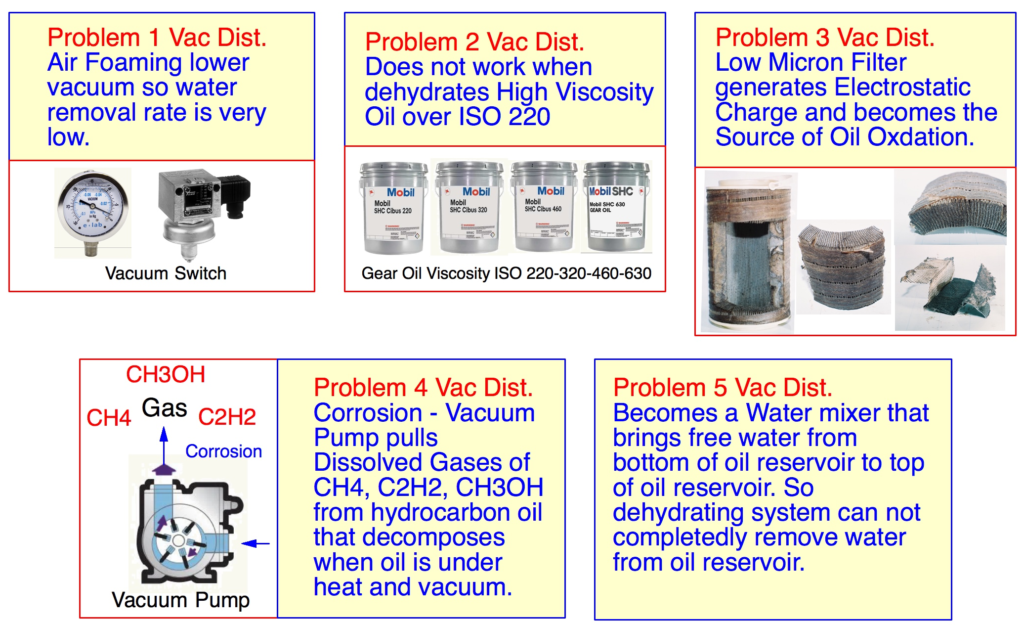 OilPure VJ Vacuum Jet Dehydration is capable of removing both Dissolved Water and Free Water from oil at the same time from VJ unit. 30,000 ppm of Water in the oil entering from suction line of VJ unit will be taken down to 50-100 ppm and discharge out fro
VJ Vacuum Jet Dehydration contains a Built-in Dehydrating Tank that allows the wet oil to perform a Multiple Pass Dehydration until water content drops down to 50-100 ppm and controlled by MS1 Moisture Sensor. Then VJ pump will discharge the Dried Oil back to equipment oil reservoir and ready for the next dehydration cycle. With this multiple Pass Dehydration Free Water from bottom of oil oil reservoir will not have a chance to end up mixing with upper oil from dehydrator. Water will eventually diminish from oil reservoir.
Vacuum Jet Dehydration can read and display water content in % aW (Saturated Point) and ppm on PLC display. These water information can be transmitted with Remote Monitoring System through cellular phone App in both IOS iPhone and Android. VJ unit can also perform a Remote Control Operation which can be accessed from outside by smart phone App. The display on smart phone will be as if you stand in front of the VJ PLC display and operate the VJ unit remotely. These communication features can not be found in any other dehydration equipment in north America or Europe or Asia.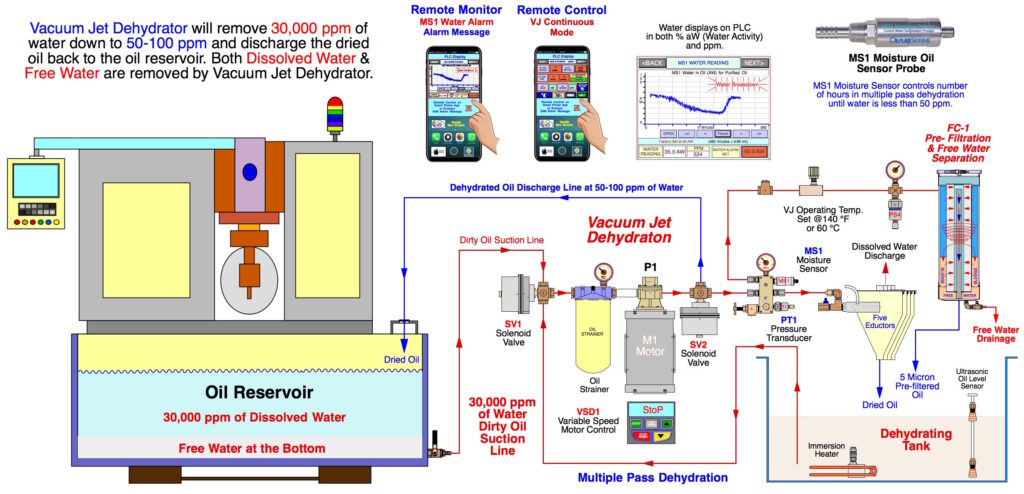 The above information is based on our experiences with users and their comments who wishes the manufacturer can improve their products. Please review with good discretion.

© Copyright, August , 2021
Document and information in this website is a proprietary information belonging to OilPure and is not allowed to reveal to public without OilPure consent.