OPFS Service – English
OPFS Service – English
OPFC – OilPure Fluid Care
OilPure FLuid Care provides how to manage used oil and turn them into a good reusable oil properly. While providing the service, we also have the opportunity to train customer staffs on the job training so they learn how to prevent the equipment breakdown from bad lubrication.
OilPure Fluid Care (OPFC) Benefits to Industries
On-Site Expertise in Oil Management Service & Consulting

OPFC will consult with customer by the On-Site Oil Management Service in how to properly analyze the lubrication problems with our 30 year experiences from the US. The service work will resolve the incompetence employees who did poor work and causes damages to company.

Lubrication Technology and Tribology to Improve Productivity

OPFC helps educate customer employee in Lubrication Technology and Tribology that enhances productivity of their machinery.

Return On Assets (ROA) Increase Asset Utilization

The hidden ROA (Return On Assets) can be revealed and improve the Asset Utilization with OPFC process. As lubrication life can be extended to the life of the depreciated machinery.

A Path to World Class Manufacturing

This improves the Machine Reliability and leads customer to a World Class Manufacturing.

IIOT 4.0 Business using Mini SCADA for Wireless Remote Monitoring & Remote Control for Real Time

OPFC service is the Wireless Remote Monitoring & Remote Control that allows the oil data to communicate in Real Time before the equipment encounter damages. All OilPure equipment is capable of the Unmanned automation that doesn't require operator for oil cleaning operation.

Employee Coaching & Education

OPFC provides the Hand On coaching and education to customer to learn how to solve and understand their root cause of lubrication problems. It is a Practical Training to customer employees.
AST-50 Oil Recycling Machine at Seward Products, Illinois USA with over 500 CNC.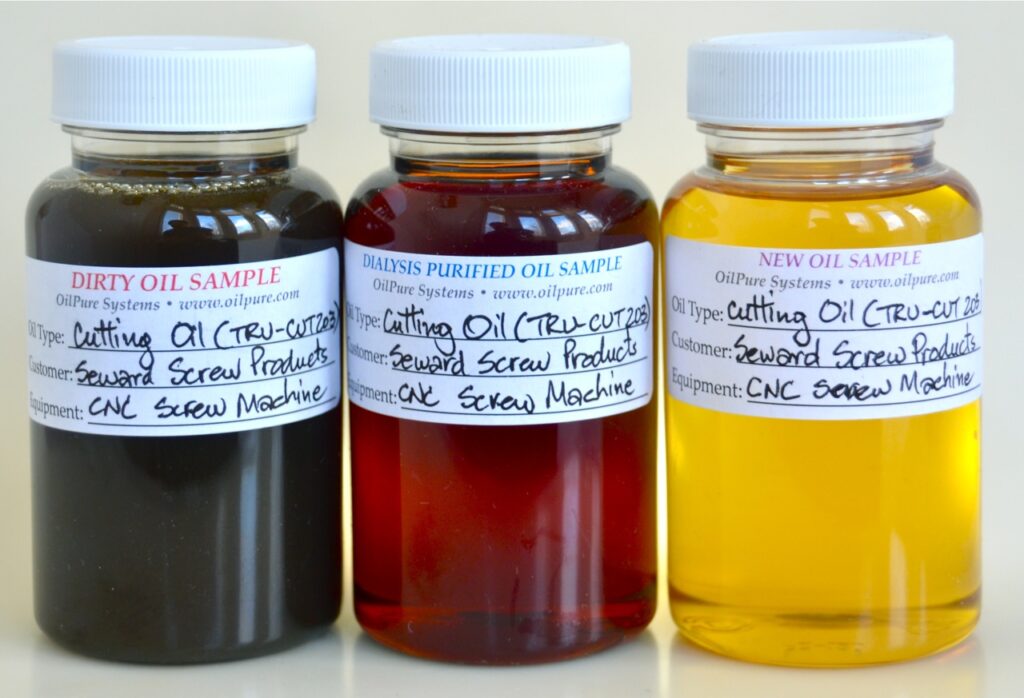 Before & After Cutting Oil Samples
OilPure Fluid Care (OPFC) Process
On-site Lubrication Audit will inspect the current quality of lubrication before cleaning by using the Portable Oil Testing Equipment from OilPure. This oil information include the type of oil, oil consumption, how long the oil has been in service, and type of equipment machinery. This will also include how to collect the used oil for storage.
2. Oil Purifier Equipment & Machines OilPure provides various kind of oil purifier that can remove free water, dissolved water, oil oxidation that can bring the used oil back to life as described follows:
On-Line Oil Analyzer (OA-1) connects to oil reservoir to measure Particle Count, Moisture, Oil Oxidation
Dirty oil storage tank unit for gravity separation (DT-100)
Centrifuge unit for sludge separator (TC-8)
Vacuum Jet Dehydrator unit for water removal (VJ-100)
Cartridge 5 Micron Paper Pre-filtration unit (FC-1)
PurePack Chemical treatment unit for final oil polishing (MB-50)
On Site Oil Test Kits for solid particulate (Gravimetric), TAN, Additive Depletion (DOT, TAN, Q1000)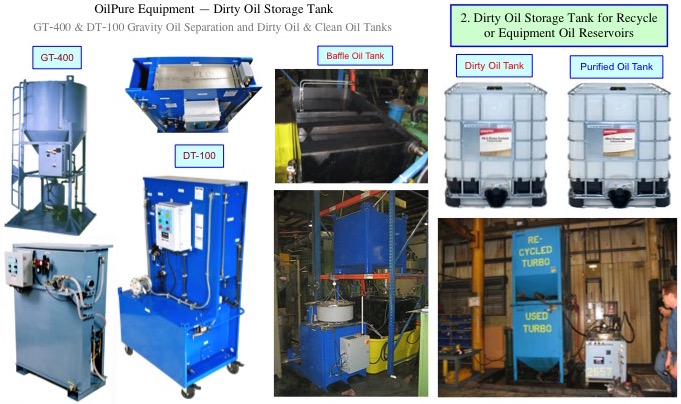 Dirty oil is recovered and collected in Tote Tank or Drums for recycle.
High Speed Centrifuge is used as Pre-Filtration to remove sludge from Cutting Oil or Quenching Oil or Cold Header Oil.
FC-1, 5 micron Pre-Filtration to remove large particulate for the next oil purification.
VJ-100 Vacuum Jet Dehydrator removes Dissolved Water and some Free Water from Dirty Oil.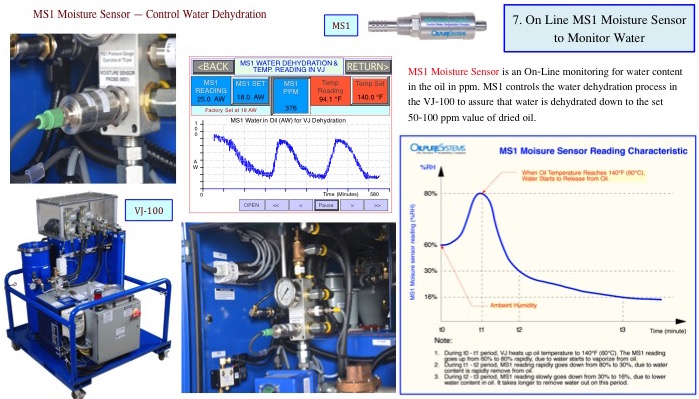 MS1 Moisture Sensor can reads water content in both ppm and % AW (Water Activity). MS1 is a smart sensor that can read and automatically control water dehydration to assure that the discharged oil will have water less than 50-100 ppm.
PurePack Chemical Filter is final polishing filter that removes Solid Particle, Water, Oil Acidity in Total Acid Number and Varnish or oil oxidation by-products.
MB-50 or AST-50 uses PurePack as part of the final oil polishing to purify the oil.
OS1 Oil Sensor can read the Incremental changes in Oil Oxidation and Diminishing Changes in Additive Depletion.
3. Oil Additive Refortification The AP-50 Additive Mixer device is used to blend the Supplemental Oil Additives that imported from the US. These Supplemental Additives will enhance the lubrication property in many different properties such as increase oil temperature withholding from 80 °C to 90 °C or water resistant additives that repel ingressing water into the oil molecule. The Portable Oil Analyzer will assure that purified oil is as good for reuse.
4. Oil Testing Equipment and Portable Oil Analyzer will be used to test the recycled for quality control to assure that recycled oil is good quality.
5. After the OilPure Fluid Care is completed, OilPure will issue a Certificate of Oil Recycling to customer addressing the recycled oil quantity in conjunction with oil testing result for quality control for record keeping.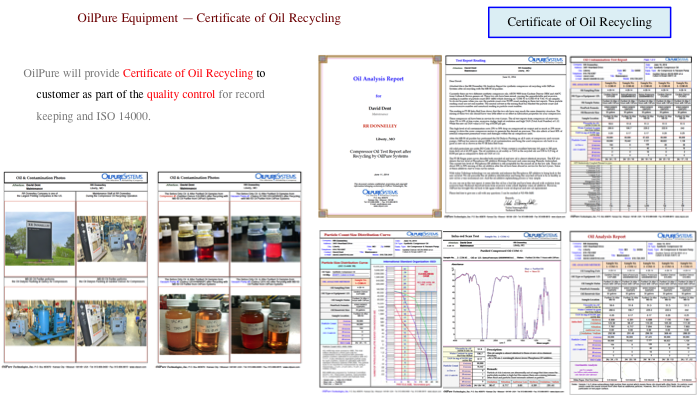 Example of Oil Testing using in OPFC Certificate of Oil Recycling Report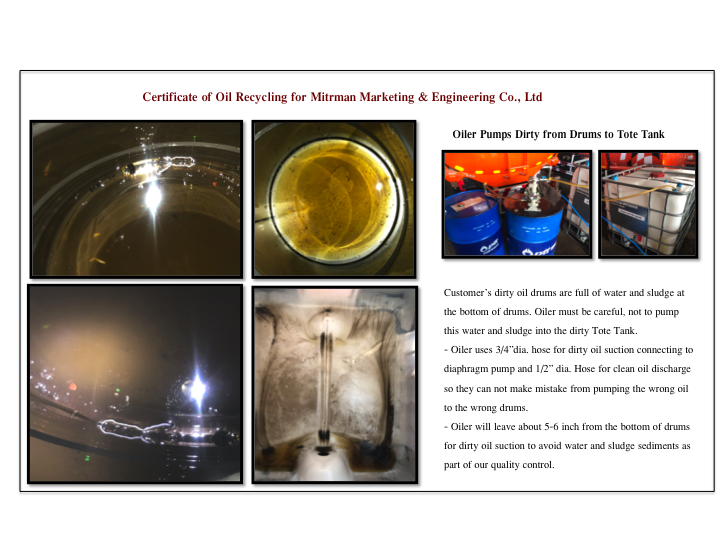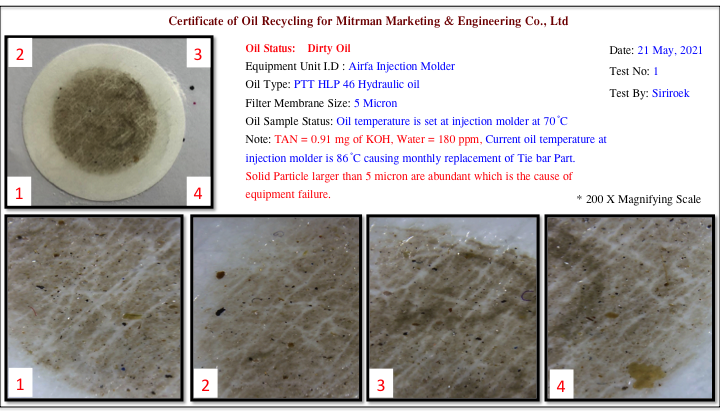 © Copyright, August , 2021
Document and information in this website is a proprietary information belonging to OilPure and is not allowed to reveal to public without OilPure consent.