Principle of Oil Contamination Control – English
Principle of Oil Contamination Control – English
Oil Contamination Control is the Core Competency for the Root Cause and Preventive for all machinery problems. The Erratic Behavior of hydraulic system becomes uncontrollable caused by oil contamination. This allows manufacturing costs is beyond budget and unpredictable costs, thus lowering profit.
Oil Contamination Ingression Rate must be balanced and removed by existing oil filter that can removes Total Oil Contamination Control out of the oil and control the Oil Contamination Egression Rate. Oil Filter has to keep up with Total Oil Contamination in the lubricating system. When more oil contamination enters into the system more than taking out, system will becomes imbalance and affects on more Friction between internal components. The oil contamination keeps accumulate to the point that Machine Tolerance becomes excessive. Machine will not be able to perform as specifications demand. It will produce defective parts and breakdown soon. This is inevitable for user to face the Machine Downtime before it is too late.
Oil Filter VS Oil Purification
Oil Filtration removes only Solid particle in 10 micron as specified by OEM or 3 micron absolute as the On-Line Filter or Full Flow Filter.
Oil Purification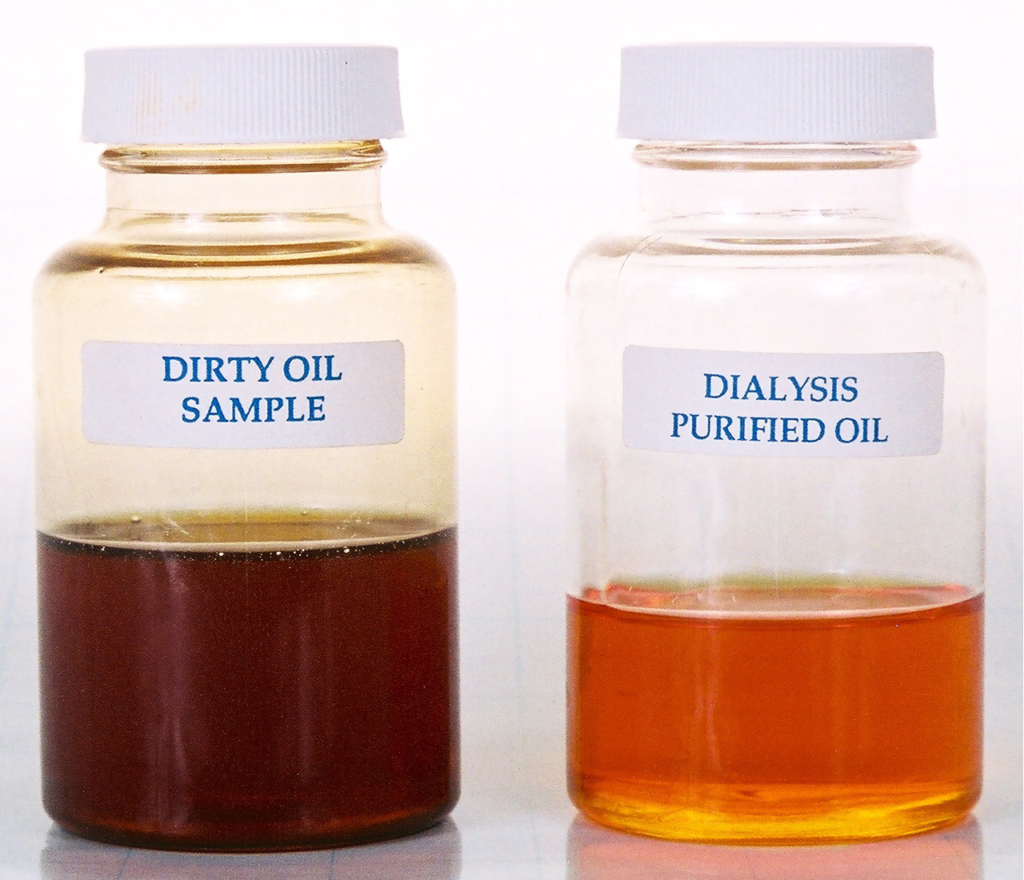 Oil Purification removes all Sub-micron Solid Particles, Dissolved Water and Oil Oxidation or Varnish that causes high reading in Total Acid Number (TAN).
On-Line Filter
On-Line Filter is acting as a Guard Filter to remove solid particle which accidentally enters into lubrication system. On-Line Filter will protect equipment damages from incidental solid contamination. On-Line filter is not designed to maintain oil cleanliness that is needed for hydraulic equipment tolerance.
Off-Line Filter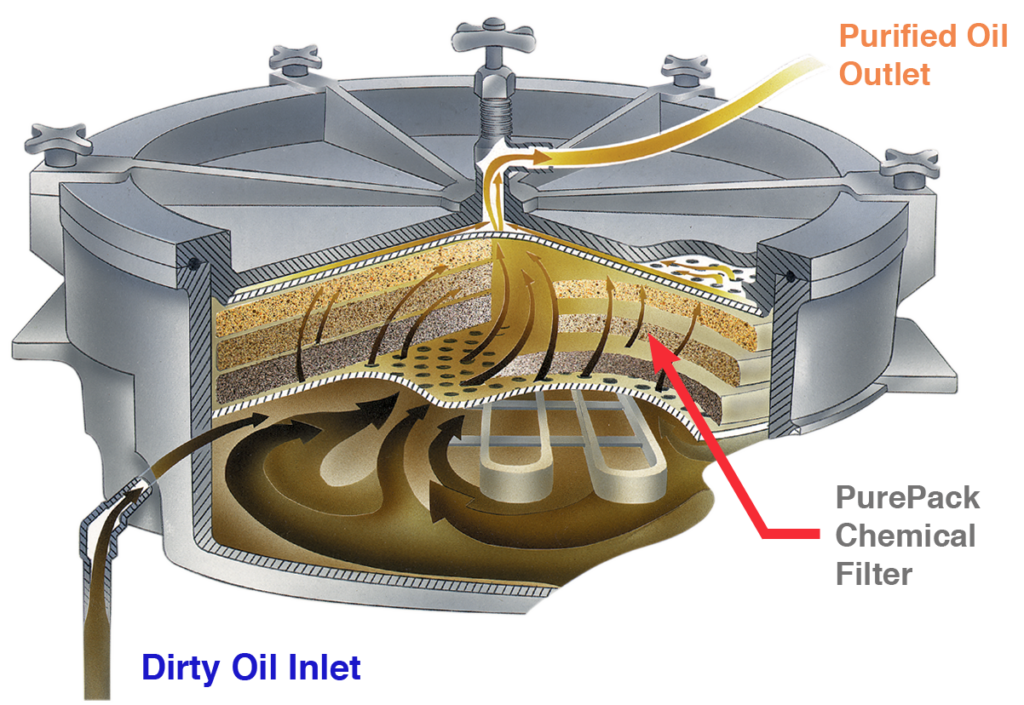 OilPure Unit
Off Line Filter is designed to polish oil cleanliness and continuously maintain oil cleanliness in the oil reservoir to meet the hydraulic equipment tolerance requirements. This oil cleanliness will ensure the lubrication quality at its best performance and this will create Friction Free Operation for the equipment.
Oil Contamination Control by OilPure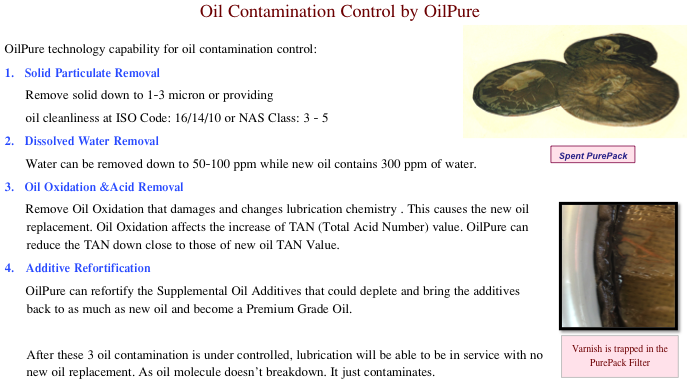 OilPure technology capability for oil contamination control:

Solid Particulate Removal

Remove solid down to 1-3 micron or providing oil cleanliness at ISO Code: 16/14/10 or NAS Class: 3-5

Dissolved Water Removal

Water can be removed down to 50-100 ppm while new oil contains 300 ppm of water. 3.Oil

Oxidation &Acid Removal

Remove Oil Oxidation that damages and changes lubrication chemistry . This causes the new oil replacement. Oil Oxidation affects the increase of TAN (Total Acid Number) value. OilPure can reduce the TAN down close to those of new oil TAN Value.

Additive Refortification

OilPure can refortify the Supplemental Oil Additives that could deplete and bring the additives back to as much as new oil and become a Premium Grade Oil.
After these 3 oil contamination is under controlled, lubrication will be able to be in service with no new oil replacement. As oil molecule doesn't breakdown. It just contaminates.
Machine Life Extension Factor (MLEF)
Effect of Particulate Contamination on Hydraulic System Life
Effect of Water Content on Machine Life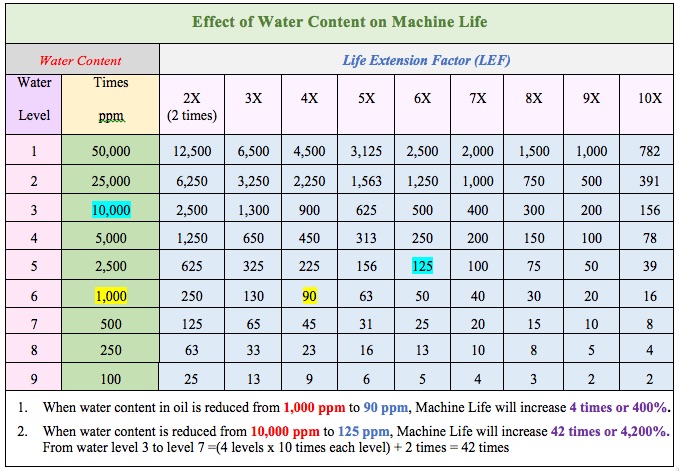 Understanding ISO Code 4406-99 Oil Cleanliness Particle Count Reading
How Particle Count Reads Solid Particulate
Particle Count (ISO: 4406-1999)
ISO 4406 has been revised in 1999. The new edition introduces a three-part code for contamination levels measured with automatic particle counters calibrated in accordance with ISO 11171. It also introduces equivalent particle sizes for such counters, based on calibration with NIST standard reference material SRM 2806. The particle sizes to be reported for measurement by using a microscope, ≥ 4 µm, ≥ 6 µm and ≥ 14 µm per milliliter of fluid. ISO-4406 was prepared by Technical Committee ISO/TC 131, Fluid power systems, Subcommittee SC 6, Contamination control and hydraulic fluid.
Particle Size Distribution Curve
Particle size 4 and 6 micron shows 99,999 count in one cc, illustrates the discrepancy of how Particle Count technology can describe faulty reading. The reason behind 99,999 excessive counts can be explained as there are special solvents dissolved in the oil. While the 0.8 micron Patch Test shows absolute no particulate on the test paper. Particle White Light Sensor happens to detect this faulty count.
Recommended Particulate Cleanliness Chart in ISO Code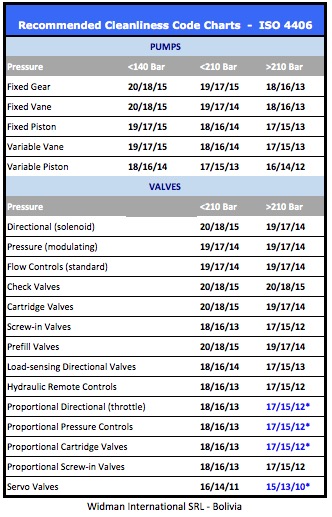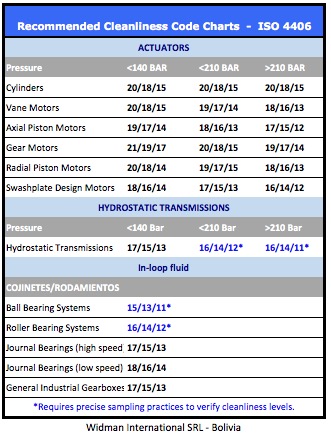 © Copyright, August , 2021 Document and information in this website is a proprietary information belonging to OilPure and is not allowed to reveal to public without OilPure consent.