Remote Control – Mini SCADA – English
Remote Control – Mini SCADA – English
Automation IIOT 4.0 Wireless Communication (Mini SCADA) in OilPure Equipment
OilPure develops software program for OilPure equipment so they can operate with Unmanned Operation with Remote Control and Remote Monitoring through WebMI Code. OilPure oil reclamation system is a fully automated, IIOT 4.0, Mini SCADA system which utilizes the remote control monitor technology and or the remote control operation to monitor and operate the system from lap top computer or mobile phone.
Remote Alarm Monitoring & Alarm Message Sending by Gmail & SMS Test Message
Remote Alarm Monitoring can be followed from Smart Phone App both iPhone iOS and Android Operating Systems. Alarm Messages will be sent by Gmail and SMS Text Message in user Smart Phones. The alarm messages can be information On-Line Oil Analysis directly to user at the plant site. So user can foresee the machine condition on a Real Time, ahead of time before major failures are coming.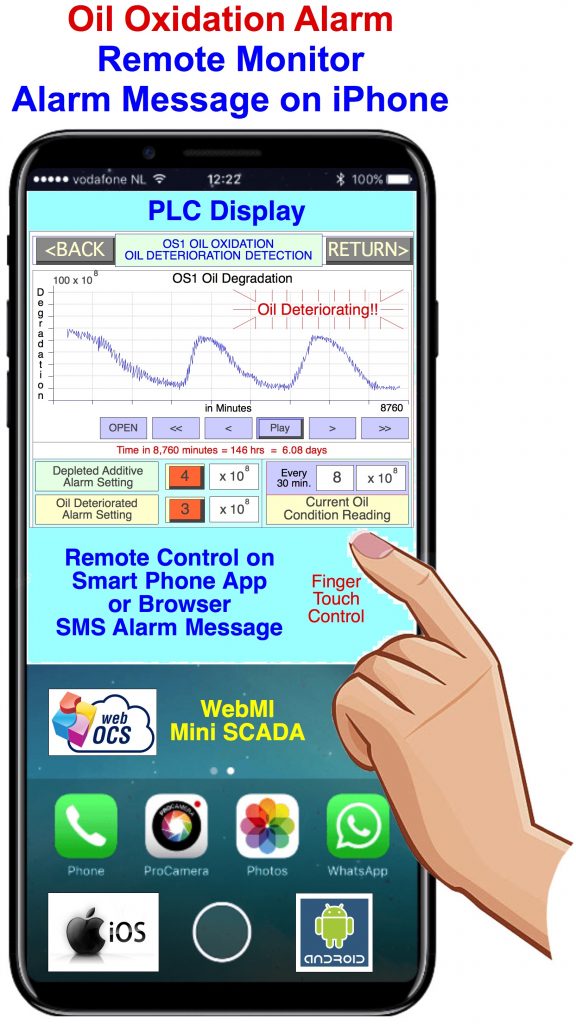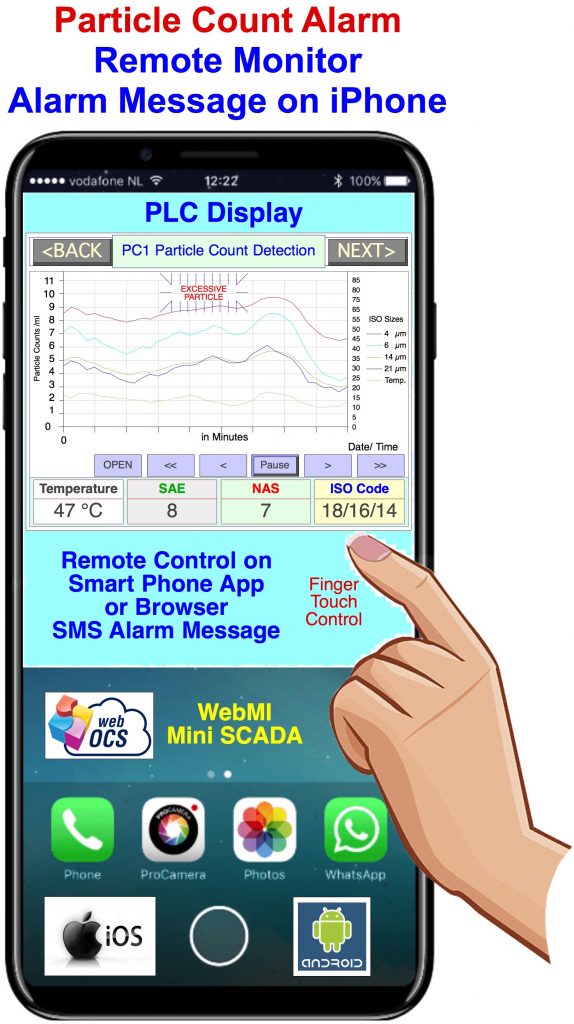 This oil analysis data doesn't have to go through Corporate Server or CLOUD and forward back to the IT department to interpret the data before sending the user. This type of IT data traffic could create lot of problems in IT connection. It's too many channels to go through.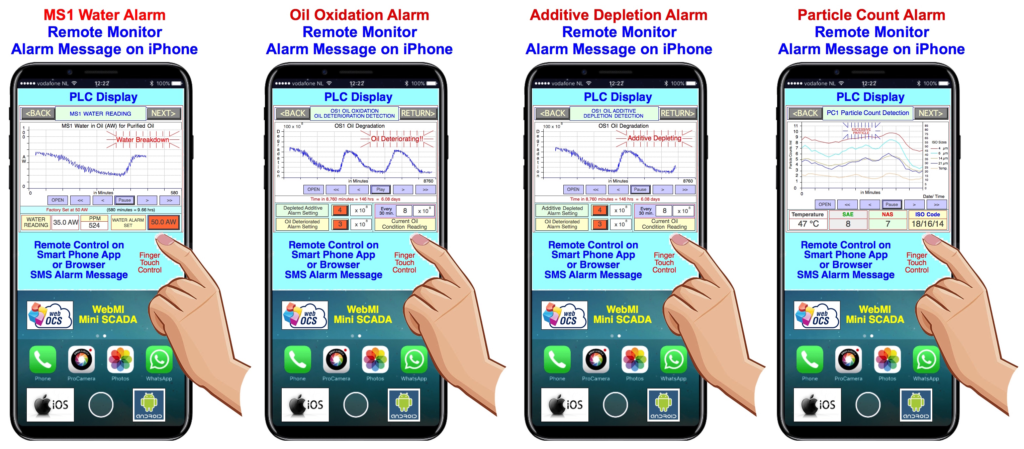 Remote Control from Smart Phone App or Browser in PC Laptop with IP Address
User can control and manage OilPure equipment and the On-Line Oil Analyzer with Completed Remote Control capability from phone App. What appear on the PLC display will also appear on the touch screen mobile phone. So user can completely take control over the machine outside the plant facility with 24 hours alarm capability.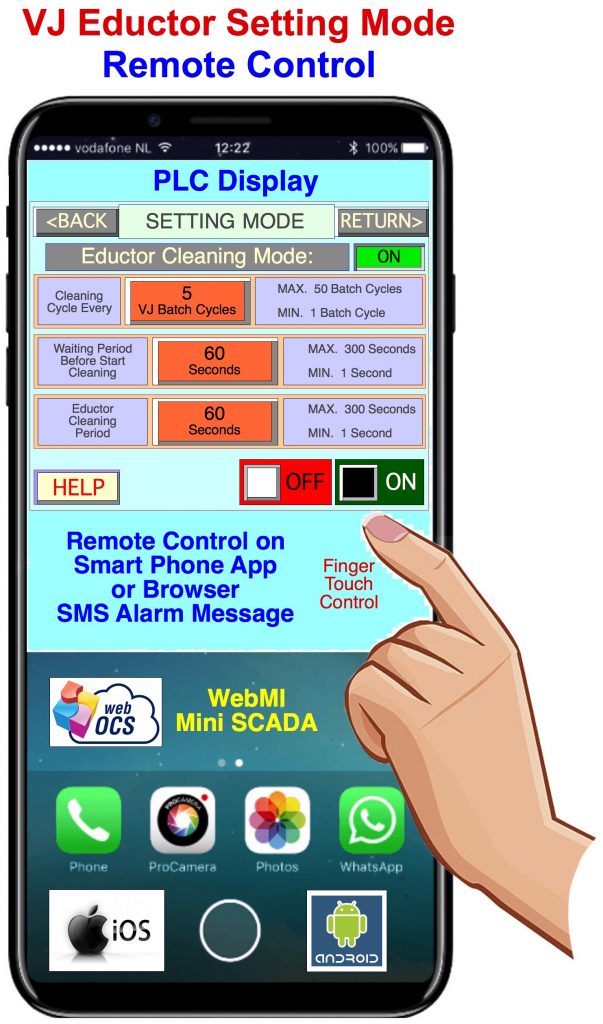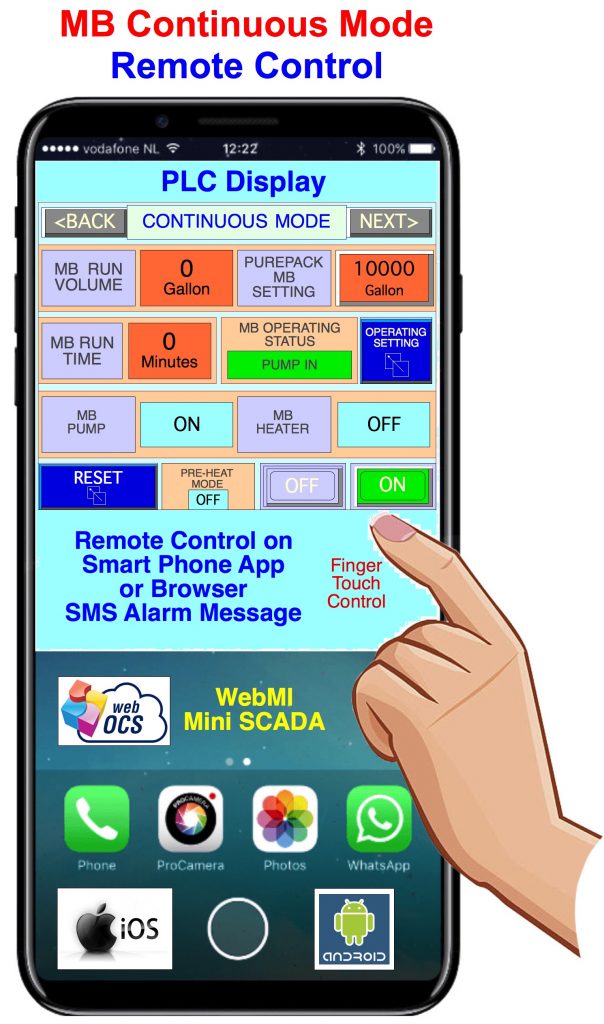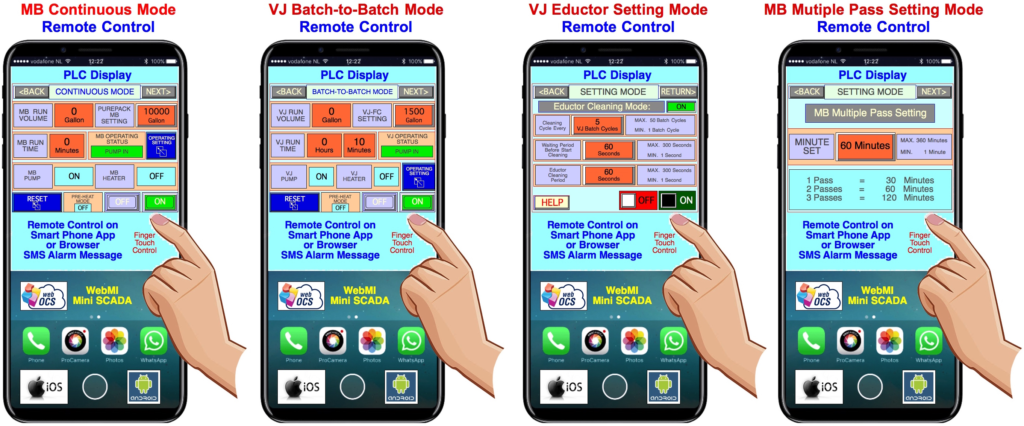 Remote Control & Monitoring and M2M Machine to Machine Networking (Mini SCADA):
WebMI wireless remote control can send alarms in E-mail & SMS text messages to mobile phones with security password. Oil purifier operation can be remotely operated by mobile phone App.
WebMI Remote Control utilizes Static IP address from RJ-45 for connection. Remote control can be accessed through web browser from smart phones or laptop computer and App from anywhere that has cellular phone connection.
M2M (Machine to Machine) Networking Capability to communicate through CAT 5 internet cable with other OilPure machines such as VJ-100 Vacuum Jet Dehydrator and TC-8 Turbine Jet Centrifuge as Pre-Treatment.
Optional NE-5 Network Enclosure to replace the LAN Wired communication for Wireless Communication with Mobile Cellular Router with Static IP Address SIMM to connect to several machines with RJ-45 Ethernet unmanaged switch network.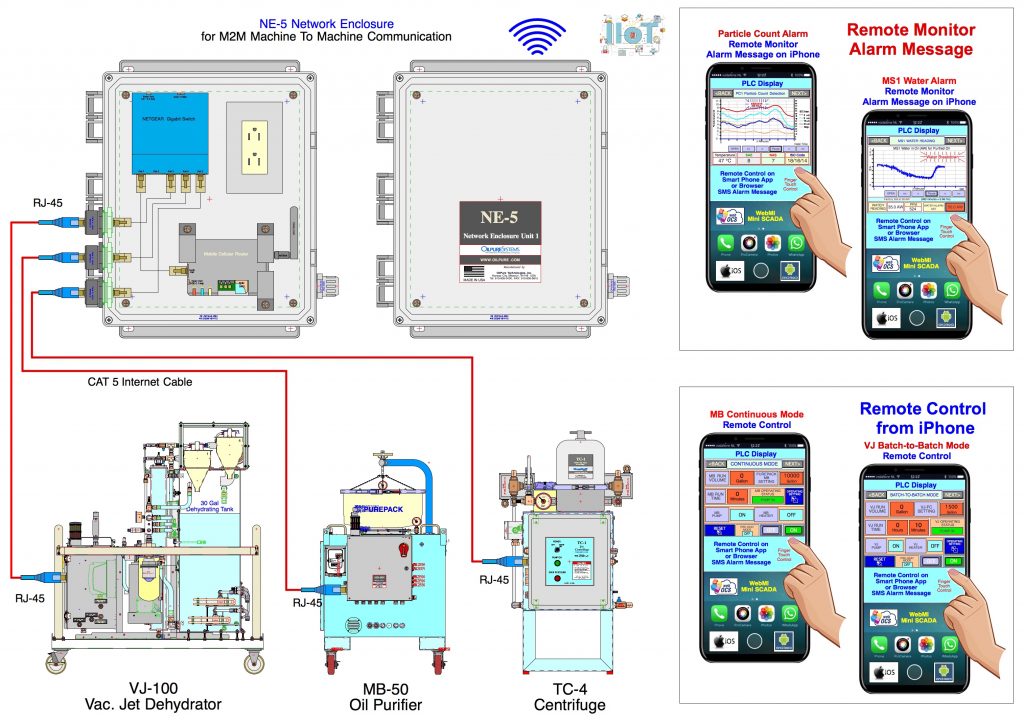 © Copyright, August , 2021
Document and information in this website is a proprietary information belonging to OilPure and is not allowed to reveal to public without OilPure consent.