What is Six Sigma?
Six Sigma is a disciplined, data-driven approach to process improvement aimed at the near-elimination of defects from every product, process, and transaction. The purpose of Six Sigma is to gain breakthrough knowledge on how to improve processes to do things BETTER, FASTER, and at LOWER COST.
Goal of Six Sigma is to increase profits by eliminating variability, defects and waste that undermine customer loyalty.
M

etric:  

3.4 Defects Per Million Opportunities

. DPMO allows you to take complexity of product/process into account. Rule of thumb is to consider at least three opportunities for a physical part/component – one for form, one for fit and one for function, in absence of better considerations. Also you want to be Six Sigma in the Critical to Quality characteristics and not the whole unit/characteristics.

Methodology:

   DMAIC structured problem solving roadmap and tools.
Philosophy:  Reduce variation in your business and take customer-focused, data driven decisions.
Application of statistical techniques in the DMAIC Process
Define:

  Define the problem

Measure:

  Determine how to measure performance

Analyze:

  Analyze means to improve the measurable

Improve:

  Verify and implement the improvement

Control:

  Implement the means to control the improvements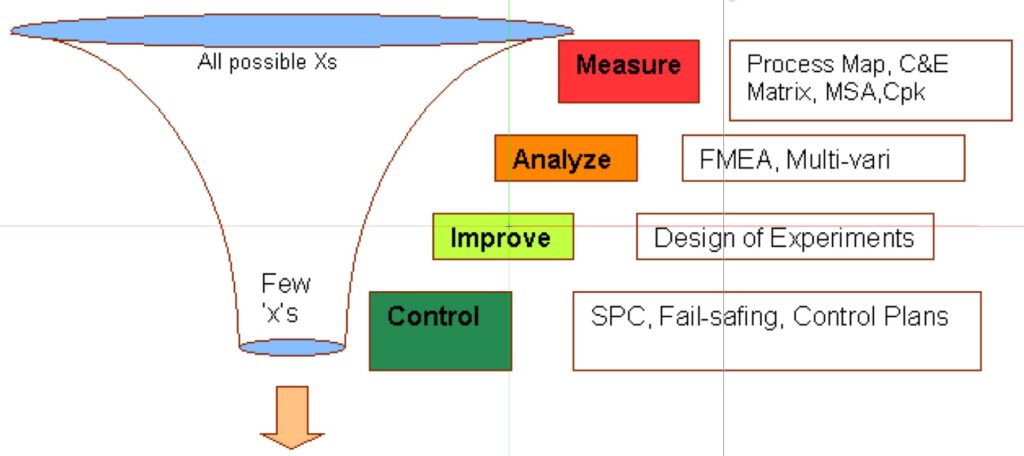 The number of 'x' s go on getting eliminated using various statistical and other tools. This is as if the variation is getting reduced as it passes through a funnel of the six sigma methodology. This is sometimes called the breakthrough strategy.
Six Sigma can be used to improve every facet of business, from production, to human resources, to order entry, to technical support. Six Sigma can be used for any activity that is concerned with cost, timeliness, and quality of results. Unlike previous quality improvement efforts, Six Sigma is designed to provide tangible business results, cost savings that are directly traceable to the bottom line.
Six Sigma Methodology
The projects having large impact of customer satisfaction and significant impact on bottom-line are selected. Top management of the organization has very important role during selection of projects and leaders. The projects are clearly defined in terms of expected key deliverables. These are typically in terms of DPMO levels or sigma quality levels, RTY, Quality Cost etc. In the overall approach, the actual problem is converted in to a statistical problem. This is done by mapping the process, defining key process input variables (KPIVs or 'x's) and key process output variables (KPOVs or 'y 's). The power of statistical tools is used to determine a statistical solution. This is then converted in to a practical solution.
Benefits of Using Six Sigma?
Organizations that implement Six Sigma correctly achieve significant benefits that contribute to competitive advantage and to changing the culture in an organization from reactive problem solving to proactive problem prevention.  Specifically the proven benefits include:
For the individual:

Improved knowledge and skills
Ability to use a wide range of tools and techniques
A status that is recognized world wide
For the organization:

Bottom line cost savings (5%-20% of turnover per annum)
Improved quality of product or service as perceived by the customer (internal and external customers)
Reduction in process cycle times
Development of staff skills
Common language throughout the organization
World class company
Understanding Six Sigma
Understanding and the X's Factors, and you'll never have to ask "Y".
Six Sigma is an overall strategy to accelerate

improvements

in processes, products and services (create breakthrough ideas)
Six Sigma is measurement of how effective strategies are in eliminating defects and

variations

from processes, products and services to increase yield.
Variation is the Process Enemy
Sigma refers to standard deviation, a measure of variation.
Six Sigma refers to a process having six standard deviations between the target and the nearest specification limit.
Six Sigma quality will minimize lost opportunity.
Continuously ……
Improve Yields
Eliminate Defects
Reduce the Cost of Poor Quality
Reduce Cycle Time
   …… for Each Process.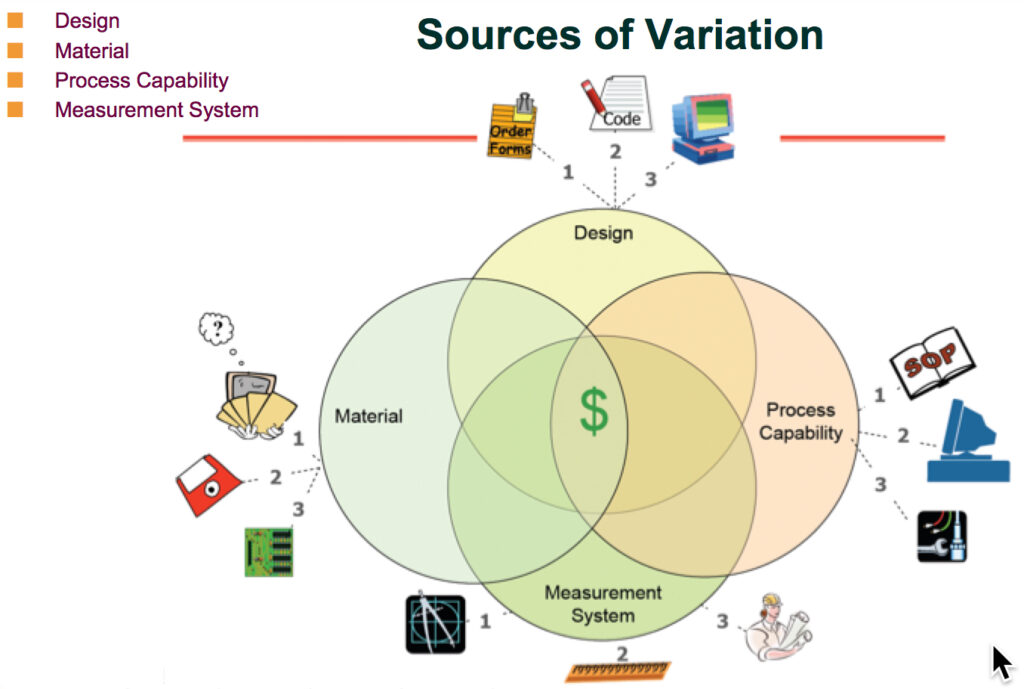 Why Implement Six Sigma?
Improve quality
Increase volume
More business Reduce errors
Reduce rejects
Reduce warranty
Reduce scrap
Improve customer satisfaction
How Should Your Companies Start Six Sigma?
Top level management attends a six sigma executive overview

Understands the commitment and makes a decision to proceed

An executive six sigma council is established

Potential six sigma project are defined
Project champions are selected
Black belts are selected

Black belts are trained and leave their current position
Champions are trained
Everyone in the company receives a 2 hour awareness training
Additional black belts and green belts are trained
These steps are critical to success. Sending a few individuals to black belt training is not enough.

© Copyright, August , 2021
Document and information in this website is a proprietary information belonging to OilPure and is not allowed to reveal to public without OilPure consent.