TPM vs TPR Total Process Reliability – English
TPM vs TPR Total Process Reliability – English
TPR (Total Process Reliability) V.S. TPM (Total Productive Maintenance)
TPR has evolved from TPM to the next level of

Predictive and Proactive

mission so they will work together effectively in the

Systemic

.
TPR will avoid having operator as media for human to communicate with machine, resulting in inconsistent Machine Reliability. TPR utilizes the control of Automation IIOT 4.0 as media to communicate with

M2M Machine-to-Machine

.
TPR involves with

SCADA

as a tool for communication software controls from PLC through CMMS (Computerized Maintenance Management System) and

MES

(Manufacturing Execution Systems) working with

EPR

(Enterprise Resource Planning).
TPR will control and monitor the whole process and manages data within its

Parameters

so these process data can become the

Data Analytic.

This Data Analytic reveals all variances that are the sources of all

root causes

of problems.
Data from TPR will be complied the Behavior and Characteristic of Variances into

Algorithms

equation that signals can be transmitted by PLC to interactive and adapt to the erratic changes in process environments. All Inputs can be implement to these process changes in provide the Optimal Capacity of the

Autonomous

process without human involved. This level of automation will allow more efficiency and precision for human to work with machines.
TPR becomes a

corporate endowment

that add value from lubrication and machinery assets. This helps improvement in

ROA Return on Asset

that adds to the bottom line profit. This is how company increases their

competitive advantages

through ROA with TPR.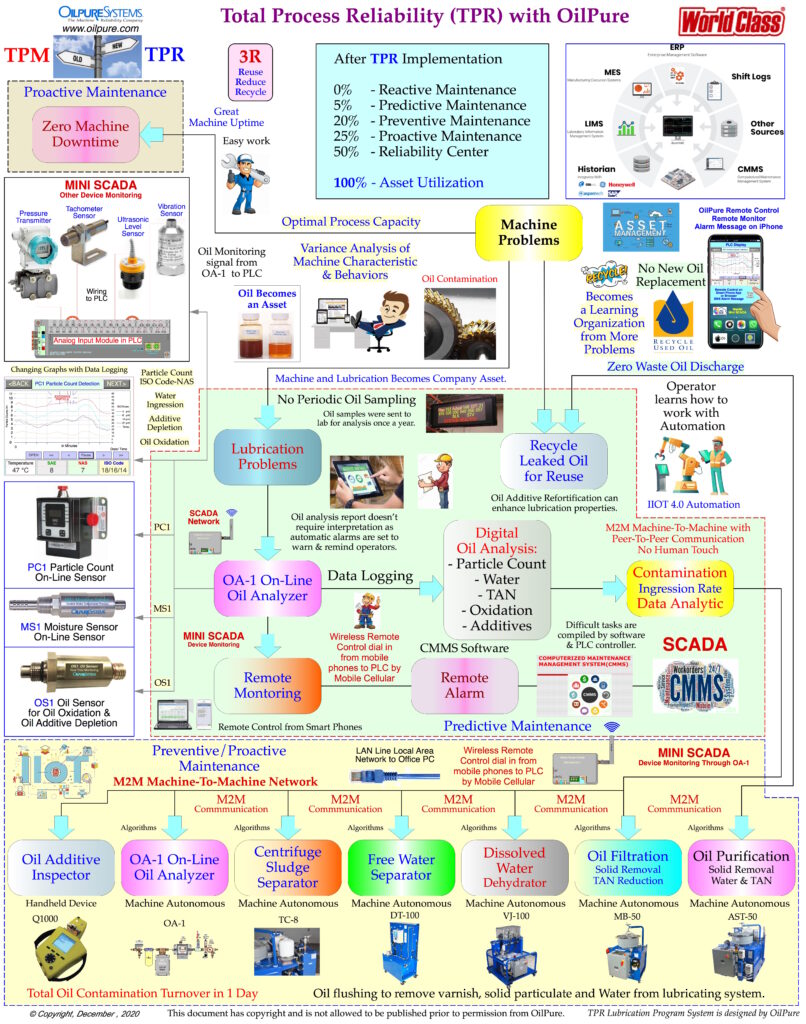 © Copyright, August , 2021
Document and information in this website is a proprietary information belonging to OilPure and is not allowed to reveal to public without OilPure consent.