Vacuum Jet Degasification – English
Vacuum Jet Degasification – English
Vacuum Jet Degasification
Vacuum Jet Degasification is capable of removing Dissolved Gases such CH4OH Methanol in Biodiesel, CH4 Methane, C2H2 Acetylene, H2S Hydrogen Sulfide, NH4 Ammonia, CO2 Carbon Dioxide etc. These Dissolved Gases are one of the sources of Hidden Oil Oxidation in the lubricating oil. They came from hydrocarbon decomposition as oil is aging in service. They are flammable substances and becomes corona ring and ignited when oil temperature exceed 380 °F flash point. This explains why the overloaded distribution transformer blows up during the peak hour.
Vacuum Jet Degasification can removing the following gases:
CH4 Methane
C2H2 Acetylene
NH4 Ammonia
C6H6 Benzene
C5H12 Pentane
C3H8 Propane
H2S Hydrogen Sulfide
CO2 Carbon Dioxide
C2H4 Ethylene
C3H6 Propylene
HCL Hydrogen Chlorine
CH3OH Methanol
These Dissolved Gases are small quantity in most lubricating oil, but has enough to cause a premature vacuum pump failure in the Vacuum Distillation unit. Most user of Vacuum Distillation has been repaired their vacuum pump on a regular basis but have no idea why vacuum pump fails very often.
Degasification of CH4, C2H2, C2H4, CO2, H2S Gases from Sub Station Transformers
Sub Station Transformer such as LTT (Transmission Line Transformer) or OCB (Oil Filled Circuit Breaker) are Distribution Transformer and LTC (Load Tap Changer) is Power Transformer. Distribution Transformer having oil reservoir size from 150 – 500 gallons and Power Transformer having oil reservoir size from 3,500 – 7,500 gallons are all having oil contamination problems as described followings:.
Dissolved Water is more than 50 ppm will cause the reduction of Di-Electric Strength and IFT Interfacial Tension values.
Dissolved Gases such as CH4 Methane, H2S Hydrogen Sulfide gases, CO2 Carbon Dioxide has impacted on transformer corrosion as well as transformer blow up during the Peak Hour.
Oil Acidity – TAN (Total Acid Number) has direct effect on Di-Electric Strength value.
Minute Solid Particle size from 1-3 microns from Copper, Iron and Cellulose occurring in transformer oil have direct effect on Di-Electric Strength value. Especially Cellulose becomes decomposed and form Polymeric substance in the oil as well as generates CO2 and CO gases in the transformer oil.
empt to improve 15%-30% of Di-Electric Strength as well as reduce over 80% of transformer maintenance and breakdown. This gases will have no corrosion effect on Vacuum Jet Degasifier pump or process as compared to conventional Vacuum Distillation Process.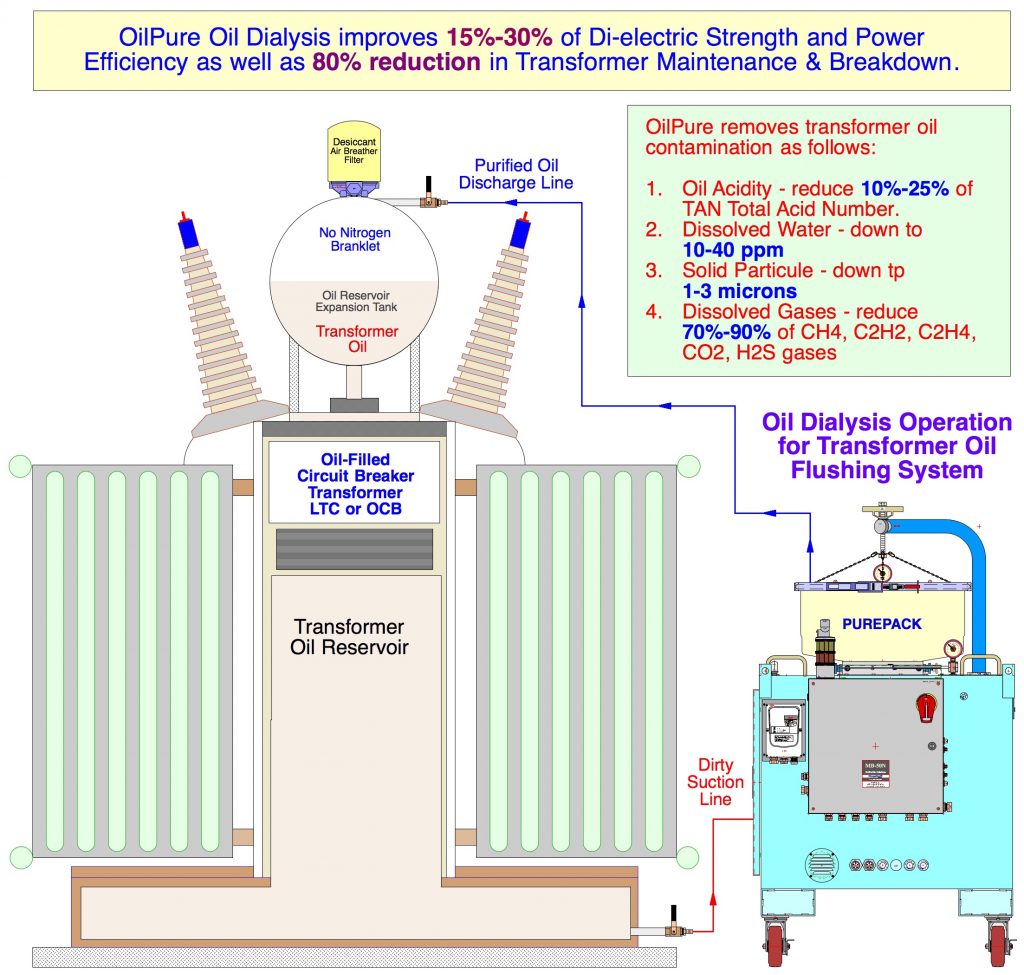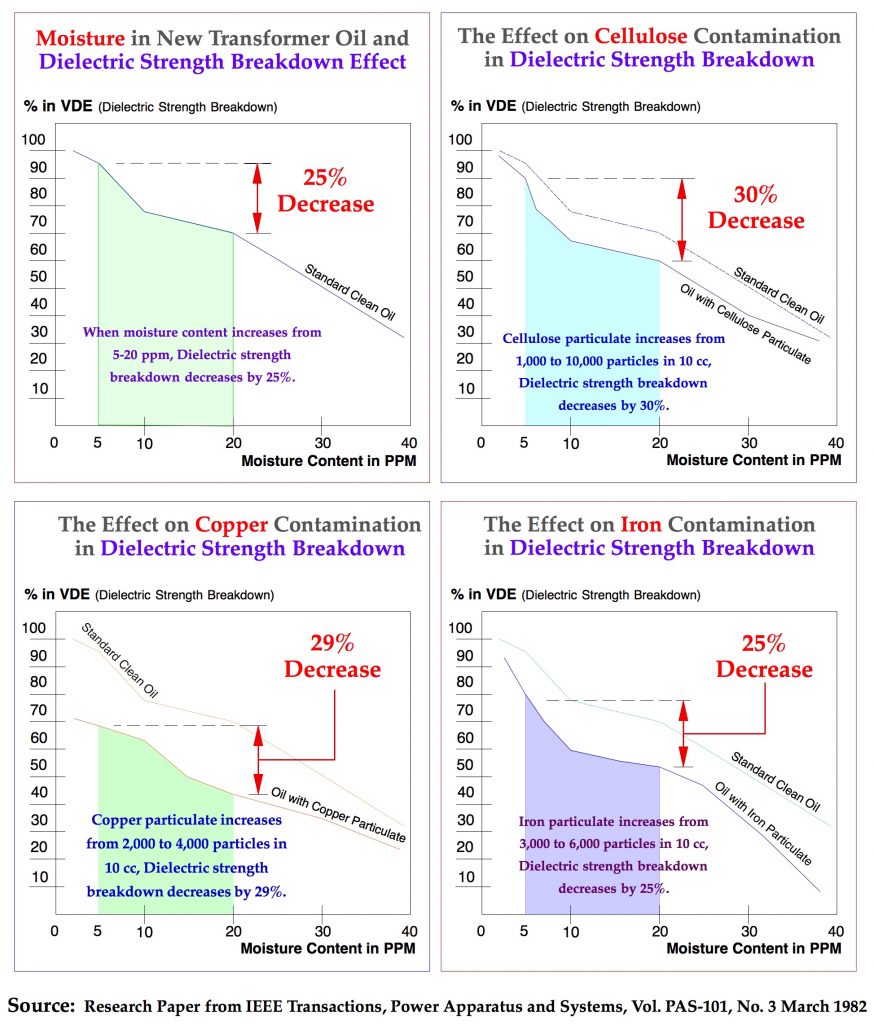 Degasification of CH4, H2S Gases from Diesel Engine Oil from Landfill & Biogas Power Generating Engines
Weight Gases) from Diesel Engine Oil in Gas Turbine Generator such Caterpillar, Cummins, GE, Jenbacher Diesel Gas Engine from Biogas and Landfill Natural Gas generation. These corrosive gases reacts with base oil and increase oil acidity TAN (Total Acid Number) in the oil, consequently depletes oil additives such as TBN Additive.

CH4, H2S, CO2 Gases in lubricating oils came from the decomposition of hydrocarbon in service for a long period of time. These CH4 Methane Gas reacts with Silicon Dust from the Landfill Well and forms a by product called "Siloxane" having particle size of 0.5-3 microns. Siloxane is very Abrasive and has High Hardness Value which cause Excessive Wear in the diesel engine components such piston ring, cylinder and bearings. This premature engine component failure and a short lubrication life is caused by these corrosive gases.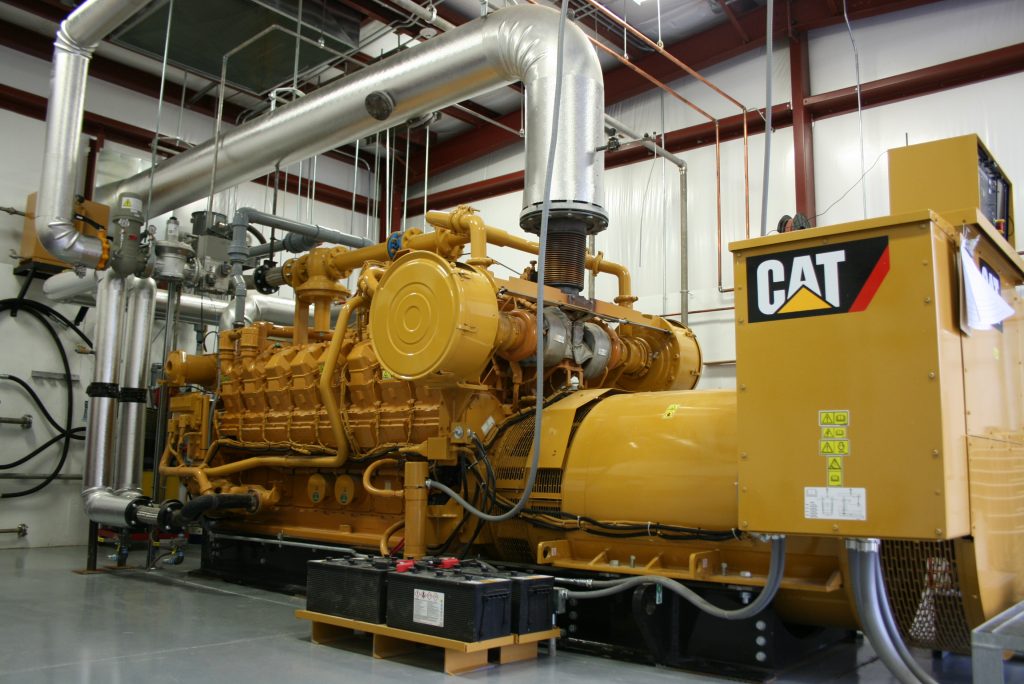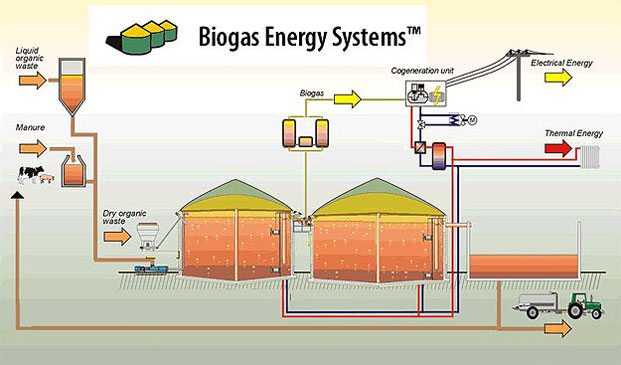 The solution to this engine oil corrosion is to degas CH4, H2S Gases from Diesel Engine Oil with Vacuum Jet Degasification and filters the oil through PurePack media that can remove Siloxane having 1-3 microns. TC-8 High speed centrifuge may need to remove sludge that came from Excessive TBN – Oxidation by products. This excessive sludge can cause the premature clogging filters.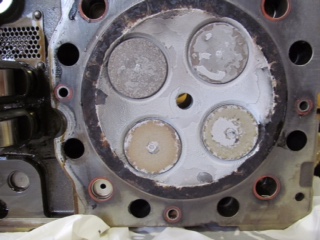 Siloxane Wear on Cylinder
Siloxane Wear on Cylinder
Siloxane Wear on Valve
Siloxane Particle is very small size of 1-3 microns while best OEM oil filter can only filter up to 50 microns level. Siloxane will keep accumulate in the lubricating oil so the oil company has to increase more TBN additive to 10-14 points to disperse this minute particle and emulsify them into the oil, the same way that Carbon Black is dispersed in the oil. However, this is really not the way to solve the Siloxane problem in engine oil.

© Copyright, August , 2021
Document and information in this website is a proprietary information belonging to OilPure and is not allowed to reveal to public without OilPure consent.